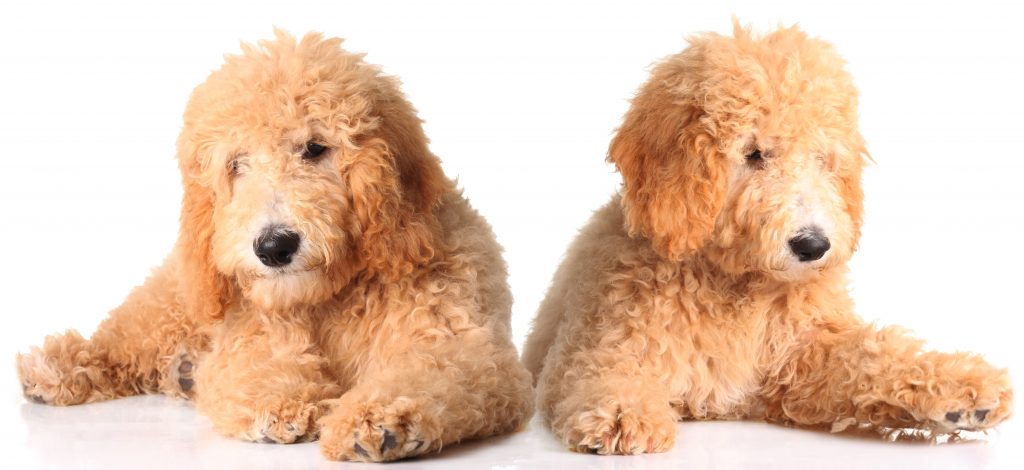 Goldendoodle | Ultimate Breed Guide
The Goldendoodle is an adorable hybrid dog. This designer breed is a cross between the Golden Retriever and the Poodle.
This breed is an incredible combination of intelligence, friendliness, and playfulness. Goldendoodle makes excellent family dogs. They provide great companionship throughout their lifetimes.
This article explains the breed characteristics, vital stats, history, size, personality, and general health of a Goldendoodle.
Let's get started!
Goldendoodle Breed Characteristics
These dogs possess the lovable traits of both their ancestors. We have listed below Goldendoodle breed characteristics. As this is a hybrid dog, these characteristics are meant to be a general guideline for Goldendoodles.
Adaptability: They are moderately adaptable dogs and are well-suited for novice owners. Goldendoodle is a sensitive breed that is prone to worry or even panic when left alone by the owner. These dogs have a moderate tolerance for both hot and cold temperatures.
Friendliness: Goldendoodles are cheerful and gentle dogs. They will shower the whole family with affection and loyalty. These dogs are friendly with kids and greet guests happily.
Grooming needs: Goldendoodles do not shed much as most dog breeds do – especially if they are not the first-generation Goldendoodle. They still need some grooming to keep their coat healthy and shiny. They have a low drooling potential and hence suitable for neatniks.
Trainability: Goldendoodles are highly intelligent and easy to train dogs. They have a low prey drive along with a low impulse to chase something.
Physical needs: Goldendoodles have a playful temperament. They have an average energy level and require 20-30 minutes of daily exercise to prevent destructive behavior.
Goldendoodle Stats
Let's have a look at some of the stats Goldendoodles:
| | |
| --- | --- |
| Stats | Description |
| Dog Breed Group | Mixes and more |
| Purpose | Companion |
| Ancestry | Golden Retriever, Poodle |
| Average Height | 13 to 24 inches at the shoulder |
| Weight Range | Miniature: 15 to 30 pounds, Medium: 30 to 45 pounds, Standard: 45 to more than 100 pounds |
| Energy level | Moderate to high |
| Exercise requirements | Around 30 minutes per day |
| Features | Thick shaggy coat, low-shedding |
| Life Expectancy | 10 to 15 years |
History of Goldendoodle
The Goldendoodle is considered to be the recent doodle mix. They were first created in the late 1990s in the United States. They were designed by the cross of Poodles and Golden Retrievers.
The concept behind the Goldendoodle's development was to create a hypoallergenic Doodle. Also, to retain the intelligent and friendly nature of the Golden Retriever.
Goldendoodles were primarily developed as companion dogs. Later, these dogs have been successfully trained as therapy dogs, agility dogs, and guide dogs. Goldendoodles are not recognized by any major kennel club.
Temperament and Personality of Goldendoodle
The Goldendoodle is an affectionate breed and makes a wonderful family companion. They are very loyal and can do anything to please their owners.
Goldendoodles are curious, playful, and sporty dogs. They are charming and intelligent but sometimes can also be mischievous. When bored or left alone for a longer duration of time, they can indulge in destructive behavior.
Goldendoodles need early socialization and exposure to different people, animals, and places. This will ensure that your Goldendoodle puppy grows up to be a well-rounded dog.
Size of Goldendoodle
Due to multigenerational breeding, Goldendoodles vary in size. There are no specific breed standards that Goldendoodle breeders are adhering to.
The three sizes of Goldendoodles are miniature, medium and large standard.
Miniature Goldendoodle
Average weight: 15 to 35 pounds
Average height: 13 to 20 inches
Medium Goldendoodle
Average weight: 40 to 50 pounds
Average height: 17 to 20 inches
Large Standard Goldendoodle
Average weight: 50 to 90 pounds
Average height: 20 to 24 inches
Major Health Concerns of Goldendoodle
Goldendoodle is generally a moderately healthy breed with fewer health issues. The health conditions that may affect this breed are:
Patellar Luxation
Ear infections
Hip dysplasia
Elbow dysplasia
Progressive Retinal Atrophy (PRA)
Von Willebrand's Disease
Gastric Dilatation-Volvulus
Allergies:
Hypothyroidism
A reputable breeder will do genetic testing before breeding two dogs to ensure they are not carriers for many of these diseases.
How to Take Care of Goldendoodle
Taking care of your Goldendoodle involves a lot of things including feeding, grooming, training, and exercises.
Feeding your Goldendoodle:
A healthy diet contributes to the overall health of your Goldendoodle. They need a nutritious and high-quality diet to stay in good physical conditions.
Select good sources of protein and fats for your pet. Their diet should be low in carbs but must include a certain amount of fibers for healthy digestion. Clean and fresh water should be available for your Goldendoodle at all times.
Training your Goldendoodle:
Goldendoodle is an intelligent breed and can fairly understand your commands. Here are some tips for Goldendoodle training:
Start training as early as possible.
Goldendoodles do not respond well to harsh training methods. Use a positive approach to training and provide lots of rewards and praises for proper behavior.
Try to develop a strong bond with your dog. Spend some extra time with your pet beyond the training sessions.
Be consistent with the rules and show a lot of patience.
Socialize your pup as much as you can. Goldendoodle should be exposed to new people, things, places, and pets every day.
Grooming needs of Goldendoodle:
Goldendoodles are low shedders but require regular grooming. The frequency of grooming depends on the type of coat your Goldendoodle has. Let's get down to the grooming needs of Goldendoodle:
Goldendoodles need thorough brushing, at least once a week. This will prevent mattes and tangles.
Shave trouble areas like ear hair, the hair on paws.
Bathe your Goldendoodle once a month. Use a high-quality dog shampoo and refrain from overbathing your dog.
Clean your dog's ears with a cotton ball and a cleaning solution to prevent infections.
Trim your Goldendoodle's nails every month to make sure they're at a good length.
You should have lots of treats ready for your Goldendoodle during grooming sessions.
Exercise requirements of Goldendoodle:
Goldendoodles are energetic and playful dogs. They need physical activities and mental stimulation to stay healthy and happy. By exercising your dog, you will prevent health risks and prevent behavioral problems.
Exercising your Goldendoodle should not be a burden for you or your dog. You can meet their exercise requirements by:
Fetch
Frisbee Toss
Backyard agility
Walking, jogging, hiking, or cycling with your Goldendoodle
Playing with interactive and puzzle toys
Playing tug of war
Free play in a fenced yard
Obedience training
Swimming
Final Thoughts
Goldendoodles are like small kids and heavily rely on our care as dog parents! You must give your Goldendoodles high-quality food, take care of their grooming needs, and provide physical and mental stimulation.
If you have any comments, please do let us know. We would be happy to hear from you.