If you're like most pet owners, you want nothing but the best for your furry friend. And when it comes to planning for your dog's future, one of the most important things to consider is their lifespan. In this blog post, we'll take a look at the average Bernedoodle lifespan and what you can do to help make sure they live a long and healthy life.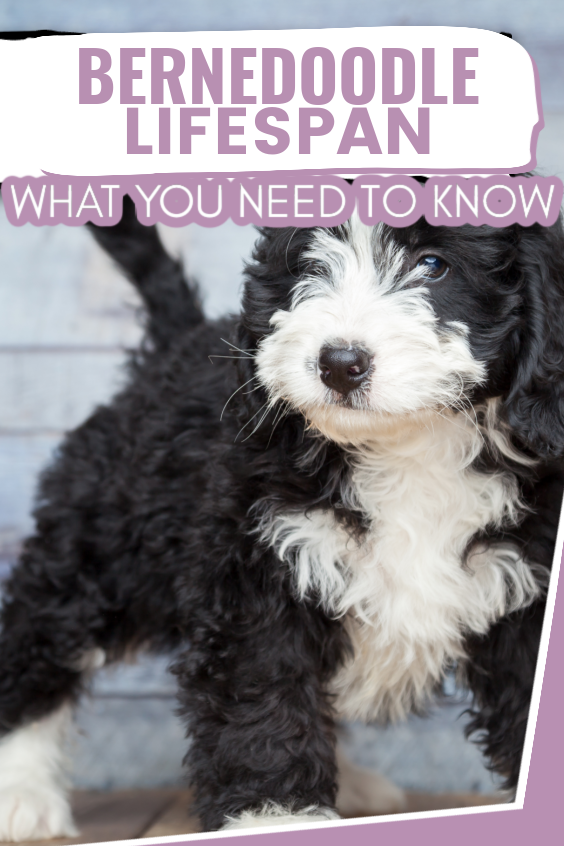 As a dog owner, you want nothing more than for your furry friend to have a long and happy life. And while all dogs are unique, there are certain breeds that tend to have longer lifespans than others. One of those breeds is the Bernedoodle.
Bernedoodles are a cross between Bernese Mountain Dogs and Poodles. They inherit the best traits of both breeds, including loyalty, intelligence, and playfulness. Bernedoodles are also relatively low-maintenance when it comes to grooming, and they don't shed very much.
But what about their lifespan? How long can you expect a Bernedoodle to live? In this blog post, we'll answer that question and give you everything you need to know about the lifespan of Bernedoodles.
How Long Do Bernedoodles Live?
The average lifespan of a Bernedoodle is 12-15 years. Standard Bernedoodles tend to have the shortest lifespans while mini Bernedoodles tend to live the longest. Remember, every dog is different, so your Bernedoodle's lifespan may be shorter or longer than average depending on a number of factors. Some Bernedoodles have lived until they were 18!
Some of the factors that can affect a Bernedoodle's lifespan include:
Genetics
Diet
Exercise
Overall health
Dental Health
For example, if your Bernedoodle comes from parents with shorter lifespans, they may not live as long as one whose parents lived to be 15 years or older. Similarly, a Bernedoodle who eats a nutritious diet and gets plenty of exercises is likely to live longer than one who doesn't.
Of course, even the healthiest Bernedoodles will eventually age and experience some health problems common in old age. We'll talk more about that later in this post. First, let's discuss how you can help your Bernedoodle live a long and healthy life.
How to Help Your Bernedoodle Live a Long Life
There are some simple things you can do to help your Bernedoodle live a long life:
1. Feed them a nutritious diet:
This one is pretty self-explanatory. Like all animals, dogs need nutrient-rich food to survive and thrive. Be sure to feed your Bernese Doodle high-quality dog food that is appropriate for their age, weight, and activity level.
2. Provide plenty of exercise:
Exercise is important for all dogs, but it's especially important for high-energy breeds like the Bernese Mountain Dog. A regular exercise routine will help keep your Bernese Doodle healthy and fit as they age.
3., Keep up with their vaccinations:
Vaccinations help protect dogs from deadly diseases like rabies and distemper. Be sure to take your Bernese Doodle to the vet for their annual shots—and don't forget their boosters!
4. Have them spayed or neutered:
Spaying or neutering your dog can help them live up to 3 years longer by reducing their risk of cancer and other diseases.
5. Brush their teeth regularly:
Dental care is important for all dogs—not just humans! Brushing your dog's teeth regularly will help prevent gum disease and other dental problems later in life.. These are just a few things you can do to help increase your chances of having a long-lived companion by your side..
Common Bernedoodle Health Problems
Now let's talk about some of the health problems common in older Bernese MountainDogs so you know what to look out for..
Hip and Elbow Dysplasia
Hip and elbow dysplasia are two of the most common health problems in Bernedoodles. Both conditions are caused by malformation of the hip or elbow joint, which can lead to arthritis and other problems. If you think your Bernedoodle may have hip or elbow dysplasia, take them to the vet for a diagnosis.
von Willebrand Disease
Von Willebrand Disease is a blood clotting disorder that can be dangerous for dogs if not properly treated. If your Bernedoodle has von Willebrand Disease, they may bleed excessively from even minor injuries. If you think your dog may have this condition, take them to the vet for a diagnosis and treatment plan.
Pancreatitis
Pancreatitis is a condition that occurs when the pancreas becomes inflamed. This can be painful for dogs and can lead to other health problems if not treated properly. If you think your Bernedoodle may have pancreatitis, take them to the vet for a diagnosis and treatment plan.
Bloat
Bloat is a condition that occurs when the stomach fills with gas and twists on itself. This is a serious condition that can be fatal if not treated immediately. If you think your Bernedoodle may be bloated, take them to the vet right away.
Cancer
Cancer is a serious condition that can affect any dog, including Bernedoodles. If you think your dog may have cancer, take them to the vet for a diagnosis and treatment plan. Early detection is crucial in treating cancer effectively.
What to Expect as Your Bernedoodle Ages
Puppyhood (0-1 year)
During puppyhood, your Bernedoodle is learning and growing at an astounding rate. They will be full of energy and mischief, so it's important to give them plenty of exercise and playtime. This is also a great time to start training your dog and teaching them basic obedience commands.
As your puppy grows, they will start to lose its baby teeth and grow its adult teeth. During this time, it's important to brush their teeth regularly and give them chew toys to help with the teething process. You may also notice that your pup starts to shed more during this stage as they grow their adult coat.
Junior years (1-3 years)
As your Bernedoodle enters their junior years, they will reach their full size and begin to calm down from the crazy puppy stage. They will still have lots of energy, but not as much as before. This is a great time to continue training and socializing your dog so they can learn how to behave around other dogs and people. 
Senior years (3+ years)
During the senior years for your dog, you may notice that your Bernedoodle starts to slow down a bit. They may not be as interested in playing fetch or going for long walks as they used to be. It's important to adjust their diet and exercise routine accordingly so they don't gain too much weight. You may also want to start taking them to the vet more frequently for checkups since senior dogs are more prone to health problems. 
In conclusion, the Berendoodle is a great breed for those looking for a dog that is both hypoallergenic and has a long lifespan. However, as with any breed of dog, there are some common health problems to watch out for. By taking preventive measures and providing regular veterinary care, you can help increase your Berendoodle's lifespan. Have you had experience with this breed? What have been your findings? Let us know in the comments below!
More Articles You May Enjoy: