Choosing the name for your new Bernedoodle can be a challenge – and it's a decision that shouldn't be taken lightly. Luckily for you, we've put together this list of the best Bernedoodle names to make that choice a little bit later.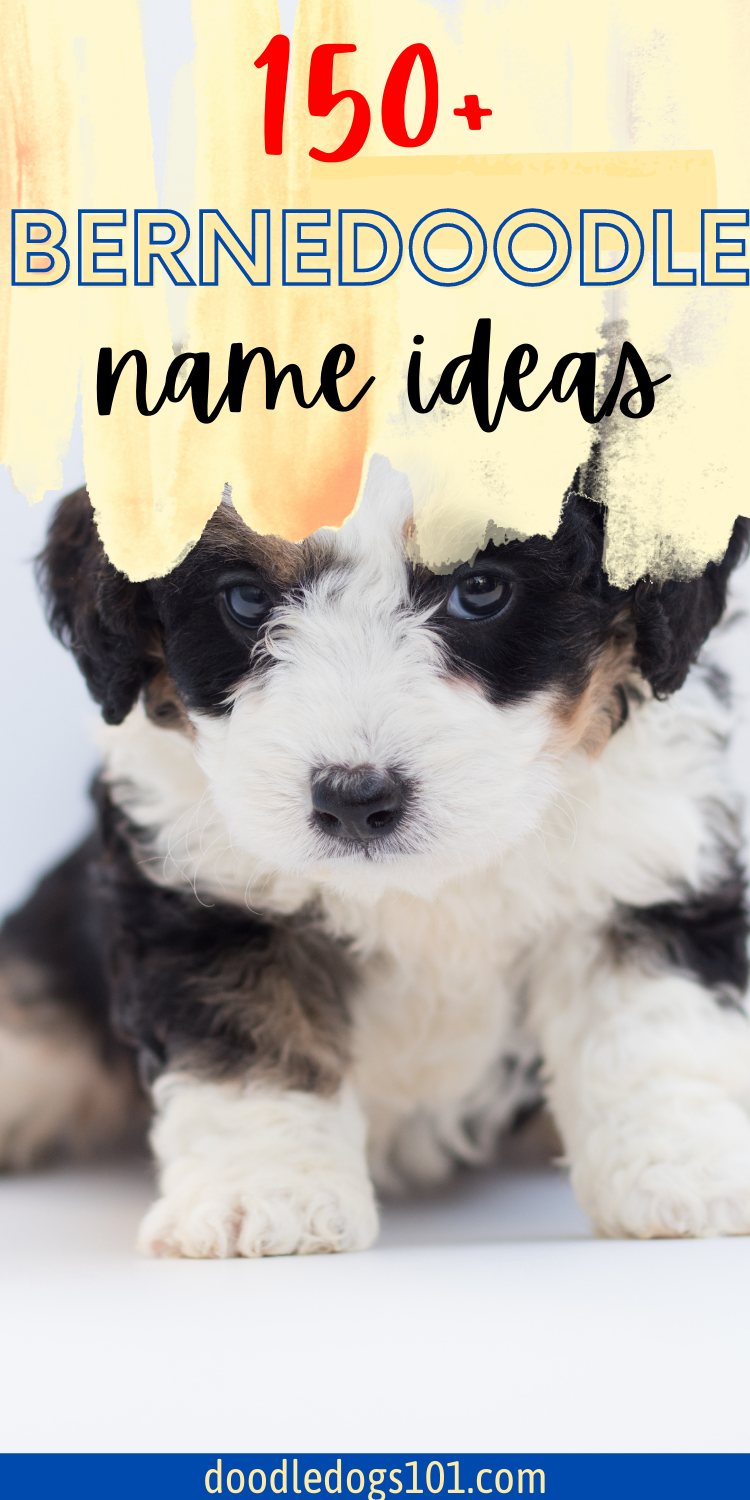 You've picked out your Bernedoodle and are anxiously awaiting its arrival to your home…and panic sets in.
You don't know what you're going to name it. Choosing a name is one of the most stressful decisions many pet owners make when welcoming a new furry friend into their home – but it doesn't have to be!
If you've just welcomed a Bernedoodle into your home, congratulations! This breed is known for being friendly and intelligent, making them a popular choice for pet owners. Naming your new pup can be a fun but challenging task, so we've compiled a list of over 150 names that will fit this pooch perfectly. From goofy to dignified, there's sure to be a perfect name on this list for your furry friend. So get scrolling and find the ideal moniker for your Bernedoodle!
Top 10 Bernedoodle Names
Bernie
Doodle
Buddy
Teddy
Coco
Max
Princess
Riley
Luna
Charlie
Top 10 Male Bernedoodle Names
Bernie
Buddy
Teddy
Max
Riley
Charlie
Bear
Duke
King
Tucker
Top 10 Female Bernedoodle Names
Doodle
Coco
Princess
Luna
Molly
Sadie
Bailey
Abbey
Belle
More Bernedoodle Name Ideas
Adonis
Ace
AJ
Apollo
Ash
Asher
Axel
Bam-bam
Bandit
Barney
Beau
Bentley
Blue
Bo
Bradley
Brick
Brownie
Bruiser
Brutus
Bubba
Buck
Buddy
Cairo
Chase
Chewbacca
Chewy
Chief
Chunk
CJ
Cleo
Coco Chanel
Cookie
Crash
Cujo
Diesel
Digby
Dixie
Domino
Draco
Droopy
Dusty
Fang
Flash
Gordon
Freeway
Freckles
Frito
Furball
Gizmo
Goofy
Gunther
Gus
Hannah
Hercules
Hidden Treasure
Homer
Indiana Jones
Jagger
Jasper
Java
Jersey
Kermit
Killer
King Kong
Kirby
Knight in Shining Armor
Lancel ot
Larry
Legolas
Lola
Luna
Mac
Marley
Marshmallow
Maverick
Milo
Monty Python
Mr. Miyagi
Murphy
Napoleon
Neo
Nibbles
Ninja
Odin
Olive
Oreo
Otis
Outlaw
Ozzie
Peanut
Pebbles
Pepper
Phantom
Piggy
Piper
Pixie
Poopsy
Predator
Prince
Radar
Rambo
Ratchet
Rebel
Redford
Riggs
Riley
Rocky
Rosie
Rowdy
Ruby
Rudy
Ryder
Scrappy Doo
Scooby-Doo
Shaggy
Shamu
Sandy
Scout
Shadow
Sherlock Holmes
Simba
Simon
Sinatra
Slinky
Smokey
Snickers
Snoopy
Spike
Sport
Starbuck
Sally
Stella
Sunshine
T-Rex
Tank
The Hulk
Theo
Thumper
Thunder
Tiger
Tito
Tracker
Tyson
Vader
Winnine
Wolverine
Woody
Zoey
Zorro
Zeus
Ziggy
How to Choose a Name for your Bernedoodle
When choosing a name for your Bernedoodle, here are a few things to consider:
What is their personality and physical characteristics?
Do you want a classic and timeless name, or something more trendy and modern?
Consider the pronunciation and spelling of the name
Make sure it's easy for a dog to learn – hard consonants tend to work well
Make sure it is easy for YOU to say quickly – it should roll of your tongue. Avoid anything you'd feel awkward saying out in public!
How long does it take for a Bernedoodle to learn its name?
It typically takes a Bernedoodle around two weeks to learn its name. However, some pups may catch on more quickly, while others may take a bit longer. The best way to ensure that your pup learns its name is to be consistent with training and rewards. Make sure you always use the same tone of voice when calling your pup's name, and give them plenty of treats and praise whenever they respond. With a little patience and persistence, your Bernedoodle will be responding to its name in no time!
So there you have it – over 150 of the best names for your bernedoodle! We hope you found a name that you love, and if not, be sure to check out our other lists of dog names. Thanks for reading, and we wish you all the best with your new furry friend!
More Articles You May Enjoy: