Goldendoodles are one of the most popular dog breeds in the world, and for good reason – they're versatile, smart, and furry balls of cuteness. But one question that often comes up when people are considering getting a Goldendoodle is whether or not they shed. The answer might surprise you! Contrary to what some people believe, many Goldendoodles do actually shed. The big question is – how much and are they actually hypoallergenic?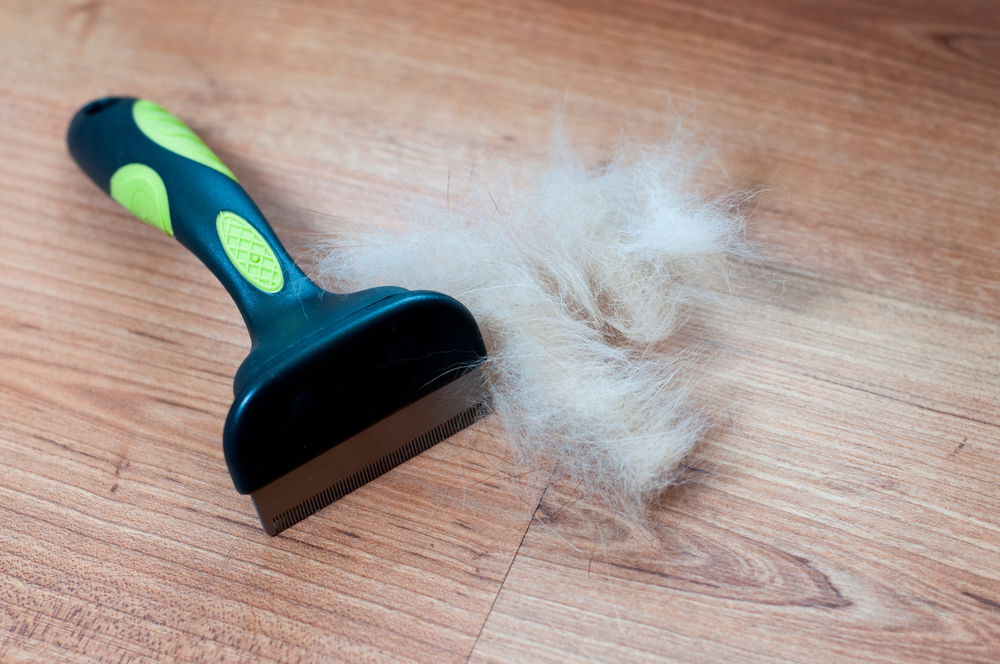 If you're thinking about getting a Goldendoodle, you might be wondering how much they shed or if it is true that they're hypoallergenic? Many people buy a Goldendoodle because they are under this impression, so let's dig into
Goldendoodles can shed. Many considered adopting a Goldendoodle puppy under the belief that they are getting a hypoallergenic, non-shedding dog – which isn't always the case. While they do tend to shed less (and some you can't tell at all) than their Golden Retriever relatives – shedding isn't completely a non-issue.
Goldendoodles are a cross between a Golden Retriever and a Poodle and they can come in a variety of sizes. The shedding frequency is impacted by the genes of the parent breed from which they inherit their coat. Wavy and curly Goldendoodles are least likely to have issues with shedding.
Goldendoodles inherit a slightly wiry or curly hair texture from their Poodle parent, though, due to genetics, it's possible that they will get a straighter coat from the Golden Retriever.
Because of the variety of Goldendoodles that you can get, in this article, we are going to dive deep into the question, "Do Goldendoodles shed?"
Which Generations of Goldendoodle Shed?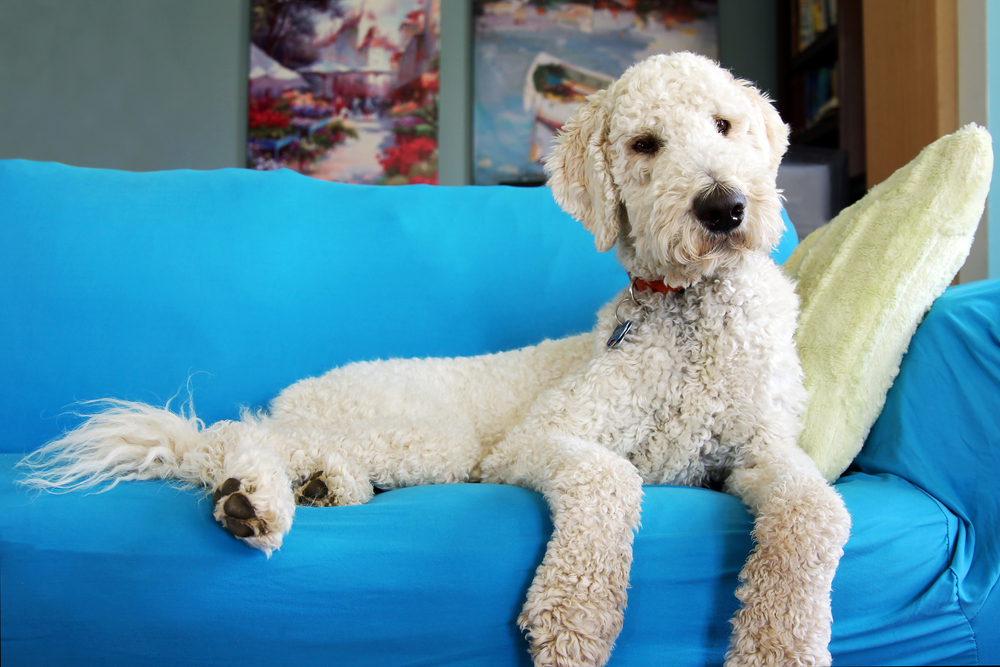 The generation of your Goldendoodle can play a big part in their shedding tendencies. IF you are working with a reputable breeder, they likely have been very particular about which dogs they are breeding, as their goal is often to have the least likely to shed offspring.
But first, let's talk about what a generation of a Goldendoodle even means:
What does the generation of a Goldendoodle mean?
The generation of a Goldendoodle is how many times the dog has been bred with another Poodle. For example, if two Mini Goldendoodles are bred together, that would be considered first-generation or F1 mini Goldendoodles. Then, when you breed those F1 mini Goldendoodles back to a toy or miniature poodle, you would have an F1b generation.
The higher the percentage of Poodle in the Goldendoodles' lineage, the less they will shed. That's because Poodles do not shed, and they pass on that non-shedding gene to their offspring.
Goldendoodles can be a variety of different mixes, which will affect how much they shed.
First-Generation or F1 Goldendoodles: 50% Poodle and 50% Golden Retriever
These dogs are a cross between a Poodle and a Golden Retriever. They tend to have wavier hair and will require more grooming than an F1b. These dogs will also shed more than an F1b Goldendoodle.
First-Generation backcross or F1b Goldendoodles: 75% Poodle and 25% Golden Retriever
F1b's are a mix of two different types of Goldendoodles; in this case, it is an F1 Goldendoodle and a Toy or Miniature Poodle. These dogs have a higher percentage of Poodle in their lineage and, as a result, will shed less than an F1.
Second-Generation or F2 Goldendoodles: 50% Poodle and 50% F1 Goldendoodle
Second-generation Goldendoodles are a cross between two F1 Goldendoodles. They have a low to non-shedding coat and will require less grooming than an F1 or F1b.
Second-Generation backcross or F2b Goldendoodles: 75% Poodle and 25% F1 Goldendoodle
F2b Goldendoodles are a cross between an F1b and an F2. They have a higher percentage of Poodle in their lineage and, as a result, will shed less than an F1 or F1b.
Third-Generation or F3 Goldendoodles: 50% Poodle and 50% F1b Goldendoodle
Third-generation Goldendoodles are a cross between two F1b Goldendoodles. They have a low to non-shedding coat and will require less grooming than an F1 or F1b.
Goldendoodle coats can also be classified as wavy, curly, or straight. Wavy and curly coats are more likely to be low/no shedding, while straight coats are more likely to shed.
Looking for a reputable dog DNA test? Embark has some great options to help you better understand your dog's breed, heritage, and health! Check it out here.
Do F1 Goldendoodles shed?
A first-generation Goldendoodle is an F1 Goldendoodle. The term "first-generation" refers to one parent being a purebred Golden Retriever and the other being a purebred Poodle.
When one parent is of each breed, the dog will be roughly 50 percent Poodle and 50 percent Golden Retriever. It gets a little trickier from there (because not all genes are passed down equally).
Sometimes you'll meet human children who look more like one parent than others. You may even come across two siblings who have nothing in common. Different genes express themselves differently, even if they have the same parents!
Most of the time with an F1 Goldendoodle, you'll notice some mild to moderate shedding, especially if they take on more traits from their Golden Retriever parent.
Which Goldendoodles shed the least?
If you are looking for a Goldendoodle that is most likely to have the least amount of shedding, here are top three Goldendoodles that generally have the least amount of shedding.
F1B Goldendoodle with a curly coat
F1B Goldendoodles with wavy coats
F2 multigenerational Goldendoodle with a curly or wavy coat
What type of Goldendoodle sheds the most?
Goldendoodles with the least amount of shedding will combine generation and coat type. Unfurnished, straight coat and F1 Goldendoodle are the most likely to shed.
Do Mini Goldendoodles Shed?
Goldendoodles come in two sizes: Standard and miniatures. But does size affect shedding? No, the amount a Goldendoodle sheds generally is not determined by their size.
It more has to do with the generation of the Goldendoodle and how much they shed. Some mini Goldendoodles have been bred for several generations to get them to a smaller size, so that can result in a low/no shed mini. However, if it's a first-generation mini Goldendoodle, it likely will shed moderately.
Are Goldendoodles Hypoallergenic?
The quick answer is no. No dog breed is "truly" hypoallergenic.
A hypoallergenic dog breed is a dog breed that is unlikely to trigger an allergic reaction in people who are allergic to dogs.
So, while Goldendoodles might be less likely to trigger an allergic reaction, they are not hypoallergenic. If you are concerned about allergies, you should spend a good amount of time with a dog before you adopt it. If you are working with a breeder, they likely will be able to help you navigate this situation as well.
When Do Goldendoodles Shed?
As previously stated, double-coated dogs shed more in the winter and summer. Dogs shed their coats more in the winter and summer. In the winter, they shed their summer coat and grow thicker undercoats to keep warm when the temperature drops.
They shed the extra fur they put on to keep warm in the winter during the summer. It is cyclical and occurs every year. Goldendoodles aren't immune to this, but your Goldendoodle will shed far more minor than Border Collies or other longer-coated breeds during these seasons.
Goldendoodle Shedding Frequency
The frequency with which several factors will determine your Goldendoodle sheds.
Most Goldendoodles shed very little, but it's a myth that they shed nothing. They are not considered hypoallergenic because they shed, albeit less than other breeds. As a result, they are ideal for people who have mild pet allergies. Goldendoodles are considered year-round shedders, but they shed more at certain times of the year than other breeds.
The frequency with which your Goldendoodle sheds can be affected by seasonal changes. If your dog sheds, you can expect to see a little more hair in the winter and summer. This is common in all double-coated dogs, including the Goldendoodle, which has a double coat. Aside from that, Goldendoodles shed less than other double-coated dogs, and a weekly brushing session will suffice to keep any excess hair out of your home.
What Triggers Shedding?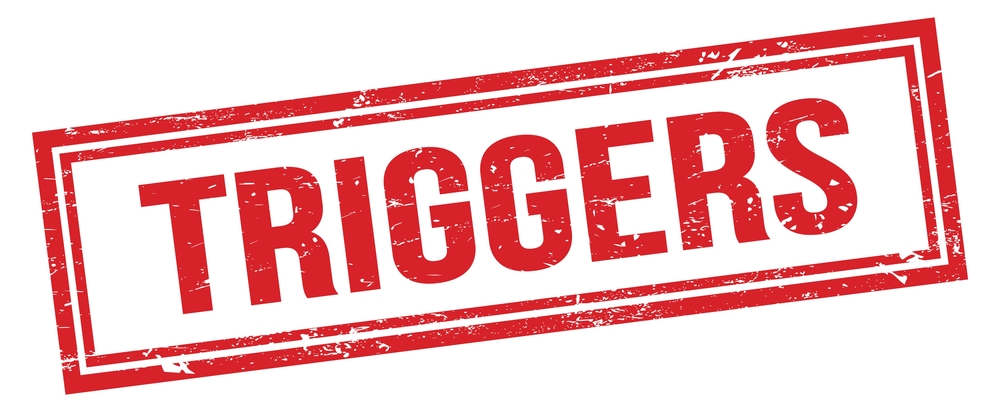 Many factors can contribute to an increase in the frequency of shedding in Goldendoodles.
While seasonality contributes to excess hair, other factors can cause your dog to shed more. The following are a few factors that may cause your Goldendoodle to shed more frequently, some of which should be investigated by your veterinarian.
Stress: Dogs who are under a lot of stress may shed more.
Allergies: Dogs who suffer from skin allergies may shed more than others.
Nutrition: Not meeting your dog's nutritional needs can trigger shedding.
Bathing: Bathing your dog too frequently can cause them to shed.
Health: Shedding can occur if your dog has a parasite or a skin condition.
Shampoo: Using the incorrect shampoo can result in shedding.
Avoiding these common triggers will help keep your dog's hair off your clothes and furniture. With active canine management, most shedding triggers can be avoided. Others will require more direct involvement from you as their owner.
What Are The Best Ways To Reduce Goldendoodle Shedding?
Regularly Brushing and Grooming
One of the best ways to reduce Goldendoodle shedding is to regularly brush and groom your dog. This will help to remove any loose hair before it has a chance to fall out and end up on your furniture or clothes.
There are a number of different brushes on the market that are designed specifically for Goldendoodles. The type of brush you use is not as important as the fact that you are regularly brushing your dog. Here are a few to consider:
A good rule of thumb is to brush your Goldendoodle at least once a week, and more often if they are shedding heavily. If you can brush them every day, that is even better.
In addition to brushing, you should also take your Goldendoodle to a groomer on a regular basis. This will help to keep their coat healthy and free of tangles and mats. Groomers can also give your dog a "haircut" that will help to reduce shedding.
Eliminating Potential Allergens
Another way to reduce Goldendoodle shedding is to eliminate potential allergens from your home. This includes things like dust, pollen, and dander.
There are a number of ways to do this, including:
Keeping your home clean and free of clutter
Vacuuming and dusting regularly
Washing bedding and clothing frequently
Using an air purifier
In Conclusion
Goldendoodles, like all dogs, may shed their fur. It's important to remember that the Goldendoodle sheds differently depending on which parent dog it takes after more. If you are allergic to dogs and want a Goldendoodle as a pet, it is still a good choice because of its hypoallergenic coat.
More Articles You May Enjoy: