Doodles are a popular breed of dog, and as with all breeds, there are specific care instructions that should be followed in order to keep them healthy and looking their best. In this article, we'll take a look at twelve of the best brushes for Goldendoodles and provide some tips on how to use them properly.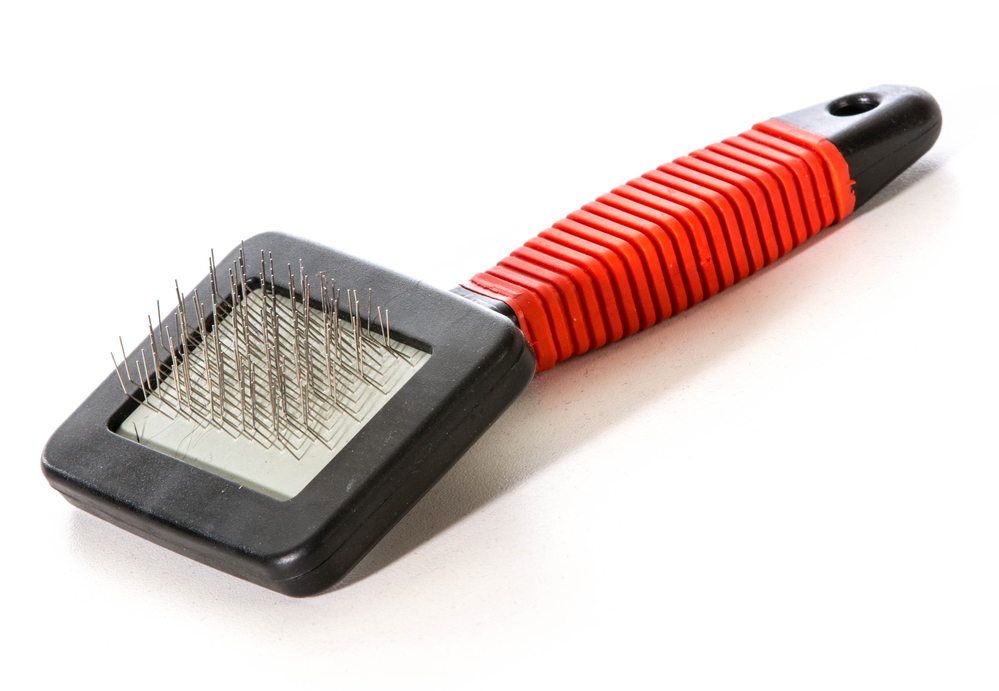 The Goldendoodle is an adorable cross between the Poodle and Golden Retriever. It's no wonder that this gentle, affectionate breed has become one of America's most popular dogs!
Grooming is an important part of taking care of your dog. You want them looking their best and proper grooming helps them feel better too! Brushing is an important part of that. But, what type should I buy, you might be asking?
The Goldendoodle has a long coat that needs brushing on occasion to keep it clean and manageable. In this article, we'll help you find the right brush for your Goldendoodle pup!
Best Brush For Goldendoodle
Goldendoodles have thick, curly hair that requires a special kind of brush to keep it looking great. The best Goldendoodle brushes should be solid and long-lasting because you will need to use it on a regular basis.
The Golden Retriever Poodle mix may be more like one parent than the other, resulting in various fur types. As a result, the best brush for Goldendoodle dogs may differ from pup to pup.
If you're in a hurry, here are our favorite options. Otherwise, keep reading for all the details on each brush type and where you can buy them.
1. FURminator Slicker Brush 
The FURminator is a brand that does exactly what you want it to! Their slicker brush will remove dead hair from your dog's coat. It sounds like these brushes are perfect for Goldendoodles, as they love nothing more than being groomed with high-quality tools by professionals who know their stuff about dogs and how to keep them healthy.
This brush has two bristle sides: straight bristles on one side and curved bristles. It was created specifically for dogs with medium, long, or curly coats to help them fight those pesky mats.
The brush is designed with a flexible head that follows the natural curves and movements of your dog's scalp while removing tangles caused by mats or excess hair. The bristles remain in their optimal positions during use, ensuring a thorough brushing experience!
2. Coastal Safari Slicker Brush
Goldendoodles require frequent brushing to keep their coats sleek and shiny. The Safari Self-Cleaning Slicker Brush is perfect for this type of dog, as it not only removes tangles but also has a self-cleaning function that will make your dog's fur look brand new! With just one button push on this amazing brush you can have all dead hair collected so there are no mats left behind after grooming time is done with this bad boy
Grooming tools can be expensive, but with this brush you'll never have to worry about tangled mats or shaggy coats again. For only $20 the high-quality grooming tool will last your whole lifetime and it's so easy! Just use regularly for shiny fur in no time at all
3. FURminator Dog Grooming Rake 
Grooming rakes are great for removing mats and knots from your dog's coat. If you don't remove these, they can get unruly fast! You'll finish the job without getting tired at all with this handy tool in hand dematting will become much more enjoyable than before
The FURminator line is reputable and has a great reputation for making great grooming products.
4. Hertzko Self-Cleaning Slicker Brush
One of the most straightforward grooming tools is the Hertzko Self-Cleaning Slicker Brush. The pins pull back up with a retraction button, leaving you with a ball of dead hair to throw away. It is much easier than trying to pick the hair out yourself.
This is another very popular slicker brush – and it's self-cleaning!
Hertzko slickers are a great way to keep your hands from getting tired and sore while brushing! Not only does this brush have an anti-slip handle, but it also cleans itself after each use. You won't worry about having too many pets since the self-cleaning technology takes care of all animal species – including dogs or cats!
5. Wet Brush Pet Brush
Yep, you heard that right – the popular Wet Brush can be used for Doodles as well!
Grooming your dog is a tricky task, especially if they don't enjoy being groomed. But with the PetBrush by Wet brushes you won't have any more problems! It's gentle enough for sensitive skin and will never scratch or irritate their fur like other tools on the market do because it has rounded tips that work as light combs to gently separate dirt from its natural oils without pulling at all sorts of lengths
This detangling brush only provides the best grooming experience for your Goldendoodle. The brush was explicitly created to detangle knots quickly and efficiently while remaining gentle.
6. Hertzko Pins and Needles Brush
Hertzko's pin and bristle brush is something that every Goldendoodle owner should have. Why? Because it is incredibly efficient and saves you money. Brushes with two sides are always a good idea.
You don't have to spend a lot of money on multiple brushes, and you always have what you need on hand.
One side of this brush has soft bristles that aid in distributing natural coat oils. The coat remains shiny and smooth after brushing with bristles. Then there's the pin side to help you get rid of those pesky mats and knots.
7. DakPets Pet Grooming Brush
DakPets deshedding brushes are developed by pet grooming experts who specialize in animal care. This particular brush may reduce shedding by up to 95%. It is also effective on young and old dogs, as well as cats. There is no need to worry about unsightly hair or fur all over your house, beds or car. The savings you'll make on pet grooming tools and visits with your veterinarian or pet groomer will quickly offset the cost of this brush. It is available in a variety of colors.
If you have a Goldendoodle that does tend a bit, this is a great option to help keep that under control. This is very comparable to the FURminator deshedding brush, but it's available at a fraction of the cost.
8. We Love Doodles Slicker Brush
This is a newer slicker brush to the market, but that doesn't mean it's not worth looking into! The We Love Doodles Slicker Brush has 50% longer, denser, and softer pins than the competition. Each pin is approximately 1 inch long and is bent and angled (at approximately 45 degrees) so it won't scratch your dog's skin. The We Love Doodles Slicker Brush is also made of recycled wood and premium paint. We Love Doodles offers a lifetime warranty for durability and stands behind their product 100%.
If you have a Goldendoodle., you know they can have some seriously beautiful hair But with that beauty comes the never-ending battle of tangles, mats, and shedding. The We Love Doodles Slicker Brush is here to help! This brush is specifically designed to work through dense and long coats, removing more dog hair than traditional slicker brushes. So if you're looking for an efficient way to remove tangles, mats, and shedding from your Goldendoodle's coat, the We Love Doodles Slicker Brush is a great option!
9. Poodle Pet Dog Grooming Rake
This is a simple but effective way to brush your Doodle! The Poodle Pet Dog Grooming Rake is a must-have for any Doodle owner. It can be used on both wet and dry coats, and will reduce shedding by up to 90%. The rake works well on many coat types, including double coated breeds, heavy coats, and rustic coat types.
If your dog is a shedder, it can help to remove dead and fuzzy undercoat to help keep their coat nice and healthy.
10. Hartz Groomer's Best Combo Dog Brush
The Hartz Groomer's Best Combo Dog Brush is the perfect tool for keeping your goldendoodle's coat looking its best. This brush features two different types of bristles – stainless steel tips for removing loose hair and detangling the coat, and dense nylon bristles for redistributing natural oils and creating a healthy, shiny coat. The ergonomically designed handle provides maximum comfort and control, making it easy to use. Best of all, this brush is very affordable, costing less than $10.
11. Glendan Dog Slicker Brush
If you have a Goldendoodle with a coat that is prone to matting, the Glendan Dog Slicker Brush is a great choice. This brush has very fine bristles that are effective at removing mats and tangles from your dog's coat without damaging it. The Glendan Dog Slicker Brush also has a comfort-grip and anti-slip handle that prevents hand and wrist strain.
It's designed to massage your pet to prevent skin disease and improve blood circulation. Great for all Doodles!
12. Pet Grooming Gloves
If you have a Doodle that isn't used to being brushed yet, a silicone option might be a good starting point. These gloves slip on like normal gloves, but have little nubs all over them that will help loosen and remove hair as you pet your dog. The best part is that the hair sticks to the glove, so you can easily peel it off and throw it away when you're done.
Selecting the Best Dog Brush for your Goldendoodle
The truth is, there are a lot of great brushes out there – and there isn't just one that is going to be perfect for everyone. Regardless of what you choose, here are a few things to keep in mind when choosing a brush:
Gentle: They must be gentle on your dog's skin and coat while removing dead hairs, dirt, and dry sweat.
Material: Brushes with wooden handles and backs are preferable. This aids in the absorption of oil from the skin and its distribution throughout your dog's body. Today, these are still a prevalent option and are included with many different slicker brushes. Rubber is also a popular option.
Reviews: The product should have positive reviews from other Doodle owners.
Long-Lasting: Brushes should be well-made and long-lasting. No one wants to have to buy a brush over and over again!
Affordable: Pick a brush that is right for your budget – you might be surprised with how inexpensive some of the options are!
How often should you brush a Goldendoodle?
Goldendoodles need to be brushed at least once a week, but preferably two to three times a week. The more you brush them, the less likely they are to develop mats and knots.
What type of brush is best for a Goldendoodle?
The best brush for a Goldendoodle is a slicker brush, followed by a bristle brush. A comb can also be used to remove mats and knots.
How can I prevent mats in my Goldendoodle's hair?
To prevent mats in your Goldendoodle's hair, you should brush them regularly and use a mat preventer spray. You can also take them to a groomer to have their coat clipped short.
How can I help my Goldendoodle like being brushed more?
To help your Goldendoodle like being brushed more, you should start by brushing them for short periods of time and gradually increasing the amount of time you brush them. You should also give them treats while you brush them. Finally, make sure to use a brush that is comfortable for them.
How often should I bathe my Goldendoodle?
Goldendoodles should be bathed about once a month, but it is best to check with your veterinarian to see what is the best schedule for your dog.
How can I make my Goldendoodle's coat stay nice and shiny?
To make your Goldendoodle's coat stay nice and shiny, you should use a bristle brush to distribute their natural oils. You can also use a leave-in conditioner or spray. Finally, make sure they are getting enough Omega-3 fatty acids in their diet.
Why is my Goldendoodle's skin so dry?
If your Goldendoodle's skin is dry, it could be because they are not getting enough fatty acids in their diet. You can also try using a leave-in conditioner or spray. Finally, make sure to brush their coat regularly to distribute their natural oils.
In Conclusion
It is critical to select the proper Goldendoodle brush. Regardless of coat type, tangles and mats form quickly on Goldendoodles if they are not groomed regularly.
Slicker brushes work well for penetrating double coats and removing minor tangles. My top pick is some kind of slicker brush, which is long-lasting, flexible, and has a self-cleaning function to prevent hair buildup.
Combining this with a good-quality metal comb, such as the Shiny Pet Dog Comb, will help keep your Goldendoodle mat-free. I hope this article has replied to your queries and assisted you in selecting the best Goldendoodle grooming brush.
It is critical to select the proper Goldendoodle brush. Regardless of coat type, tangles and mats form quickly on Goldendoodles if they are not groomed regularly. Slicker brushes work well for penetrating double coats and removing minor tangles. Having a variety of tools can make grooming a fun bonding experience for both of you. Let us know what your favorite brush is in the comments!
More Articles You Might Enjoy: